In certain places, this page uses the term "Leader" instead of "Rover" or "RA".
We begin referring to you as Leaders at Advanced Training to emphasise the way that the Scouting Movement views those people who have achieved the Woodbadge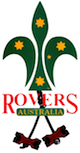 The Evaluation is an important part of Advanced Training, and is our way of ensuring that you are putting the skills and techniques that you learnt Rover Advanced Practical course into practice back in real life.
Your Advanced Training Evaluation will take place over the four months following your Rover Advanced Practical course. In the Rover Section, the evaluation will be carried out by the Region Rover Commissioner or their delegate — someone who has completed advanced training in the Rover Section who you work with. This is different to the rest of Scouts Victoria, where evaluations are organised by the Leader's Responsible Commissioner.
Prerequisites
To to begin your Rover Advanced Training Evaluation you will need to have:
Completed the Rover Advanced Practical course
Corequisites
To complete your advanced training, and be awarded the Woodbadge, or your Certificate of Advanced Training if you already have the Woodbadge, you will also need to:
Complete your Advanced Training Project
How do I Get Started?
When you return home from your Rover Advanced Practical course, your first step is to get in touch with your Region Rover Commissioner to discuss who your Supervising Leader is going to be.
Once you have both agreed who the most appropriate Supervising Leader is, you can get started.
Who is my Supervising Leader?
Your Supervising Leader may be your Crew Rover Advisor, a Subcommittee RA, your Region Rover Commissioner, a State Commissioner for Rovers, your PLA, or a Woodbadged Rover.
If you are completing advanced training outside of the Rover Section, your Supervising Leader may be your Section Leader, your Formation's Leader in Charge, your District Leader — Sectional or your Responsible Commissioner.
Your Supervising Leader must be someone who has completed Advanced training in the Rover section, and is able to see you working in your Region, VRC or Subcommittee role, or in your regular Crew life. They should also be someone who you are comfortable working with.
How do I Finish?
At the end of your initial four month evaluation period, you and your Supervising Leader will sit down and discuss how things have been going. There should be no surprises here, as you work closely together and will have been discussing any problems as they arise. However this is the way the form is structured...
Here at the end of your initial assessment period, there are two options:
Award the Woodbadge/Certificate of Advanced Training
Extend your evaluation period for a specific period
Once this is completed, the assessment sheet is sent in to the Training Office at the Victorian Scout Centre either by mail (152 Forster Road, Mt Waverley VIC 3149) or by scanning it in and emailing This email address is being protected from spambots. You need JavaScript enabled to view it..
If your Woodbadge or Certificate of Advanced Training is to be awarded, it will soon be sent out; or if your evaluation period is extended, your second evaluation period will begin.