In certain places, this page uses the term "Leader" instead of "Rover" or "RA".
We begin referring to you as Leaders at Advanced Training to emphasise the way that the Scouting Movement views those people who have achieved the Woodbadge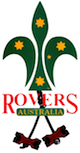 The Advanced course is our leadership master class, with three areas of focus: Self and Others, which is all about how to get the best from yourself and from those around you; Environment and Relationships where we look at the people and places that you will be leading; and Extend Yourself, with lots of ideas on how you can lead by example and look out for yourself. All of these sessions will be delivered with a strong Rover flavour, and they will set you up with everything you need to know to be a leader in the Rover section — and in everyday life.
Victorian Rovers requires anyone running for our top leadership positions, VRC Chairman, Deputy Chair, Assistant Chair, and Training Officer to have completed this course, some Regions now have similar requirements for their own Chairs. Rover Advanced Practical is also beneficial to Rovers undertaking leadership roles in their Crew or Subcommittee, and includes a large self-development component.
Rover Advanced Practical is a course that delves deep into how and why the Rover Section, and the wider Scouting Movement, operates the way it does. It sets you on the path towards your Woodbadge, recognised across the world as the sign of a Scout Leader who delivers a great program to their members and is capable of taking big projects and bringing them to life.
Rover Advanced Practical courses attract the most committed Rovers from across Victoria and Australia, so it is a great place to meet Rovers and RAs who are just as dedicated to their Rovering as you are — networking with your fellow leaders is one of the biggest advantages you will get from your Rover Advanced Practical course.
Some of the things that we will cover in the course include:
The Aims & Methods of Scouting
Leadership skills and techniques
Managing interpersonal relationships
The expectations of a Woodbadged Leader
Where to find answers to those tricky questions
Long term and strategic programming
Choosing your Advanced Training Project
Rover Advanced Practical is regularly reviewed by the team from Rover Training Victoria to make sure that it is fun, enjoyable and worthwhile for all participants... have a look at what some of the Rovers who have completed the course already have said:
Advanced training has helped me develop conflict management techniques and other skills which have not only helped me in Rovers but also in the workplace and everyday life— Sarah Marriott (Leichhardt RC)
The Advanced training course had an excellent tempo and I got much more out of the course than I expected. The course covered an incredible amount of ground in an amazingly short time and the course team has a wealth of knowledge to share. I wish I had done it years earlier.— Caitlin Wood (John Gardiner RC)
What did I get out of my advanced course? I had a great weekend, made a bunch of new friends and even learned some new things to help me in things I do in Rovers — especially planning to run The Moot!— Dale Sheehan (Aruma RC)
Prerequisites
To attend the Rover Advanced Practical course you will need to have:
Completed the Rover Basic Practical course at least six months ago
Completed Rover Basic Outdoors
Completed Rover In-Service
Completed the Advanced core eLearning modules on http://training.scouts.com.au/curriculums/rovers

Intro to Advanced Leadership Training
Advanced Scouting Fundamentals
Advanced Personal Skill Development
Programming for Personal Growth
Advanced Scout Safe
Growing your Group
World Scouting & Cultural Diversity

Completed the Rover Advanced eLearning module on http://training.scouts.com.au/curriculums/rovers

Advanced Organisational Management for Rovers
Corequisites
To complete your advanced training, and be awarded the Woodbadge, or your Certificate of Advanced Training if you already have the Woodbadge, you will also need to complete:
Your Rover Advanced Training Project
Your Advanced Training Evaluation
If you have already completed training in another section, discuss what you need to do with the This email address is being protected from spambots. You need JavaScript enabled to view it.
Before the Course
Before the course, you and your Course Crew will be given a number of tasks to complete before the course. These tasks may be assigned at an Orientation Day for the whole course, or they may be given to you by your Course Crew directly by your Tutor.
These tasks will help to set our expectations of you for the rest of the course; introduce you to your Course Crew — the Rovers and RAs who you will be working closely with for the duration of your Advanced Practical course; give you a chance to ask questions, and share your expectations of the course team; and also introduce you to your Tutor, a Woodbadge Rover or RA who will be your Course Crew's RA.
Costs
The 2018 cost of a Rover Advanced Practical course is $150.
You may be able to claim a reimbursement from the State Association for your travel costs if you are attending a course over 100km from your home.
How do I apply?
Complete a Adult Training Application Form and send it in to the Training Office at the Victorian Scout Centre either by mail (152 Forster Road, Mt Waverley VIC 3149) or by scanning it in and emailing This email address is being protected from spambots. You need JavaScript enabled to view it.
Interstate applicants should contact their Branch Training Office to confirm the process for enrolling in courses run by another Branch.
Who do I contact for more information?
The Victorian Rover Council Training Officer — This email address is being protected from spambots. You need JavaScript enabled to view it.
Scheduled Rover Advanced Practical Courses - Apply Online