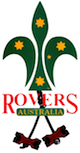 Established in 2006 as the Victorian Rover Training Team, Rover Training Victoria is the group of Rovers and Rover Advisors who develop, promote and deliver Rover Training courses.
We work under the auspices of the National Training Team, with the support of the State Training Council to promote the practise of Rovers training Rovers - with the help of Rover Advisors and Booted Rovers.
Our aim is to increase attendance at all Rover training courses and ultimately the number of Rovers who have their Rover Woodbadge. Rover Training Victoria is also available to assist with workshops at Region Gatherings, and
We're always looking for people who are able to help out with Rover Training, some of the roles we need assistance with are:
Promotions & Marketing
Basic-level Mentors
Advanced-level PLAs
Course tutors
Technical Skills assessors
Intro Seminar Presenters
Basic Course Session Presenters
Advanced Course Session Presenters
Content writers/reviewers
Course Managers
Course Leaders
Why do we do all these different things? Because we have fun! We enjoy helping the new generation of Rovers get skilled up and become ready to run our Section.
Training Requirements
We expect all of our members to hold a Woodbadge and to have done Rover Advanced & PLA training, or be working towards that level.
The requirements for Rovers wishing to join us is to have completed Rover Basic training and to commit to a development plan on completing the rest of the requirements. (Don't worry, we'll help you with that!)
Who do I contact for more information?
The Victorian Rover Council Training Officer - This email address is being protected from spambots. You need JavaScript enabled to view it.
Anyone from our team!