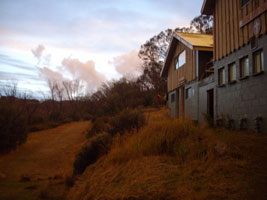 Autumn at the Bogong Rover Chalet
What's a Rover?
Young men and women join Rovers because they are between 18 and 26 years old and are looking to enjoy friends for life, the outdoors, helping others and challenge.
Rovers is the oldest section in Scouts.
Some people join Rovers because they have been in Scouting before. Many others join because they know someone who is a Rover. Others see an ad, a website, or see Rovers active in their community, and decide to give it a try!
What's Rovers about?
Rovers is about friends for life
Crews generally meet weekly, at their local den or out in the community. They have camps and activities as well as parties and other events inside and outside the movement with Rovers from all around the state. The best Crews provide diverse programs that cater to all their members. Many Crews spend so much time together that it develops into an extended friendship group that see each other multiple times a week, whether Rovering or just enjoying each other's company.
Each Crew is unique. They have their own traditions, special interests and personalities. A Rover Crew runs itself, elects a Crew Leader and executive, and are provided support from Rover Advisers and the Region Rover Community.
Rovers is about the outdoors
Rover Crews love to camp. Camping can be a base for hiking, canoeing, motorsport or other activities, or it can simply be a chance to wind down, enjoy some gourmet camp cooking and have a chat.
Rovers have access to a vast range of adventurous activities. Through the Scouting Movement there is a huge network of expertise to help you build your skills or try something new. This also means that activities like snow sports and water sports are cheaper than anywhere else.
| | |
| --- | --- |
| Taking some time to let it sink in, on an interstate expedition in the Budawangs | Caving at Mt Eccles in Gippsland with the Victorian Branch Caving Team |
Rovers is about helping others
Rovers give back. We help out with Scouting activities and community causes. Our motto is 'Service', and each Crew lives up to it in different ways.
| | |
| --- | --- |
| Rovers and others assisting with bushfire relief in Kinglake | Rovers and Rover Advisors cleaning up the waterfront at Geelong |
Rovers is about challenge
Your personal goals are important. The Baden Powell Scout Award challenges you to develop existing skills or learn new ones. Also, there are plenty of opportunities to develop leadership and management skills within your Crew or while assisting with a major activity. If you prefer to roll your sleeves up, helping out at Mafeking Rover Park or one of the Rover ski chalets can give practical skills for your career and life. All this is possible because there are experienced Rovers and Rover Advisors to assist along the way.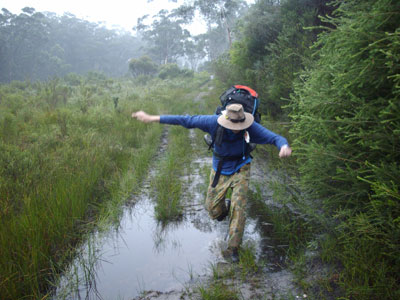 What else can I do in Rovers?
Rovers kick off each year with Summer camp at Anglesea over the Australia Day weekend. The ultimate social experience.

The Easter weekend hiking challenge for Venturers, where Rover Crews run their own challenging 'stunt' for the hikers during the day, and kick back with other Rovers at the ROC at night.

Motorsport camp at Victorian Rovers' very own Mafeking Rover Park over the Queen's Birthday Weekend. Compete with your Crew's buggy, or just sit back and watch the mud fly.

Costumed chaos reigns. Dinner, band, dancing, friends. And costumes. Lots of costumes.

In October, Rovers put on their serious face (kind of) for Victorian Rovers' awards night. A chance to celebrate and thank some of the people that make the fun possible.

National Moots

Every three years, a ten-day extravaganza of adventurous and non-adventurous activities is held for Rovers coming from all over the country and internationally. "The Moot" is being held in Victorian in January 2017.

Rover Scout Motorsport, our very own race clubs is running more and more events for Rovers to try motorsport every year. RSM is affiliated with the Confederation of Australian Motorsport, and our officials have the opportunity to officiate at CAMS events, up to and including the Australian Grand Prix.

The spiritual home of Victorian Rovering and the envy of all other states. Affectionately known as "The Park," Mafeking hosts much of the motorsport program, but with a vast wilderness reserve it is also a fantastic place for a Crew camp. Just wait until you climb Mt Quafftumbler at dawn.

Ski Chalet in pristine national park near Falls Creek, owned and operated by Victorian Rovers. Why is the Chalet 11km from Falls? When we built it, Falls didn't exist! Spending a week on a Bogong Winter Party still remains a highlight of any Rovering career. It also makes a great base for hiking or cycling during the warmer months.

The WF Waters Lodge is located right at the gate of the Mt Baw Baw village. It is fully owned and operated by Victorian Rovers, and is a great place for skiing & snowboarding during the white season, hiking & cycling during the green season, and partying all year round.

 

Rover Community Gatherings

Once a month (usually except January), all the Rover Crews in your area meet to share news and to participate in a development activity. Elected Rovers form the executive who run activities and support your Rover Crew.

All Rovers should complete formal training. Trained Rovers run their Crews better, and offer better programs. It's fun, challenging, a great networking opportunity and nationally recognised. You can earn Certificates III, IV, or Diploma qualifications in Leadership, Business and Outdoor Recreation.

 

And the rest...

Region camps, Scout theatre productions, parascending, rafting, radio activities, four wheel driving etc. Your Rover Crew is there to tell you the rest.
How do I join Rovers?
Find a Crew that you would like to join

For Venturers, your first option might be to ask your Venturer Leader or District Venturer Leader to introduce you to Crews in your area.

Also, have a look at the Crew finder. Simply contact Crews using the details provided (they will love to hear from you). Email This email address is being protected from spambots. You need JavaScript enabled to view it. for any assistance, or if you would like Crews to contact you.

The Crew contact will invite you to try out a night at their Rover Crew. Rover Crews are very good at offering transport, or addressing any other concerns, particularly if it means they find a new member. If you enjoy your visit, they should offer you a copy of their program so you can keep visiting.

Remember that all Crews are different, so don't be afraid to try a few.

After four to six visits, you'll be asked whether you would like to join. The Crew Leader will help you through some paperwork and you will be invested into the Crew as a Rover Squire or Trainee at a ceremony. You're now a member of Rover Crew!

In the following months, you will learn more about Rovers, contribute to some activities and do some simple skills training so that you can become a fully-invested Rover at a significant ceremony—a transition that Rovers take seriously and often remember for decades to come.

Best of luck!

Crew Finder gives you the contact details of a Crew near you.


Being invested into a Rover Crew is a memorable occasion